Business Card Printing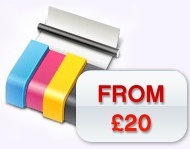 Undoubtedly, business cards are very useful in our daily lives. A well designed business card can effectively communicate your message, the company and its nature in a very discreet way. They can help you attract new customers and increase sales of the company.
When designing a business card, you have to take not only the elements to be used, but also consider what will be the target market.
It happens very often we get rid of a business card into the bin just because they do not fit in your wallet, or do not contain the necessary information.
Full colour Business Cards printed on 350gm Matt+Gloss Laminated Art are a little more expensive but are more durable and will last longer.
Select a suitable format. If possible, you might need to include more content, concider double sided or folded business cards.